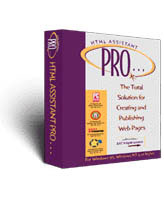 Order – HTML Assistant Pro 2000
For your convenience and security, our software is sold
exclusively at the
Kagi
e-commerce store.
HTML Assistant Pro works with Windows 95, Windows ME, Windows 98, Windows 2000, Windows XP and Windows Vista.

Price is US$99.

Order the most recent version of this powerful, yet easy-to-use, Web page authoring software.
Site License Orders:
Is your organization interested in a site license? Contact our Business Manager today. Substantial savings are available for organizations of any size.