Listen to Podcasts with Golden Ear
Golden Ear works like a radio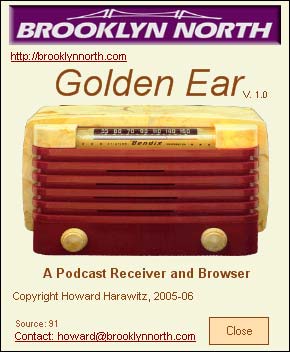 Download Golden Ear - It's free
New to podcasting? Golden Ear comes with dozens of podcast subscriptions to start you off. As you discover new ones you can easily add them to your list.
Golden Ear works like an ordinary radio. You can use dials to select podcasts and adjust listening volume.
There is no need to wait for downloads. With a click of your mouse you can listen to podcasts with your computer.
Have an iPod or any MP3 player? Golden Ear makes it easy to browse for, check out and download podcasts. You can save any of the podcasts you find so that you can take them with you while you walk, work or drive.
Golden Ear includes a collection of links to podcast directories. Podcast directories are websites with lists of podcasts that you can subscribe to. You can reach any of these websites with a click. Golden Ear's website directory collection is easily edited. As new podcast directory sites become available you can add them to your copy of Golden Ear.
If you like you can take a look at some screenshots of Golden Ear.
Golden Ear needs Microsoft Windows Media Player, Version 7 or higher.
Golden Ear also requires that you have the Microsoft Dot Net runtime version 1.1 installed.You can download the Dot Net runtime here.

Please be aware that if you download and install Golden Ear you will be doing so at your own risk. The author disclaims any responsibilty for damages incurred as a result of installing or using Golden Ear.
Installation requires only copying files to a folder. Golden Ear and its installation don't mess with your registry. To uninstall Golden Ear you only need to delete the files.
For easy installation you can download a 'self-extracting executable' (about 1.3 MB) that will copy the files for you. When you receive the file, execute it by double-clicking on its name (golden_ear_97.exe). When asked, enter the name of the folder to which you want it to copy the program files.
If you prefer a 'zip' file you can download golden_ear_97.zip This is a 1.3 MB ZIP file. Installation is simple. Just unzip into an empty folder. Read the 'readme_1st' file and then run the program.
The current release is Golden Ear (V1.0 - Build 97).
Check out Golden Ear Tshirts, mugs and other fun gifts at the Golden Ear Store
Your feedback is encouraged. Please send email to:
howard@exit0.com